As the largest commodity exchange in India, MCX plays a pivotal role in commodity trading. Futures and options of all popular commodities like natural gas, gold, silver, and others are traded on MCX. The volume and liquidity of these commodities often change based on the day and time.
That's why it's important to know MCX market timing if you're a commodity trader. This article will delve into the MCX – Indian commodity market timings in 2023 to help you make smart trading decisions in your journey.
MCX Market Timing for 2023
The MCX time in India is from 9.00 AM to 11.30 PM for 5 days a week from Monday to Friday, which means the commodity market is active for 14 hours and 30 minutes on weekdays.
The commodity market hours are extended to 14 hours and 55 minutes when the USA enters daylight savings mode. You'd be interested to know that the price of certain commodity f&o in India is influenced by their US counterparts.
That's why India aligns its commodity market timings when the US enters daylight savings, ensuring that internationally referenced commodities are in sync.
MCX operates weekly from Monday to Friday, with weekend holidays being Saturdays and Sundays. The other segments in India are not active for nearly as long as the commodity market hours.
The forex market hours range from 9.00 AM to 7.30 PM while the stock market hours range from 9.15 AM to 3.30 PM. What's more, MCX's trading hours are split into two sessions:
Morning Session: 9.00 AM to 5.00 PM
Evening Session: 5.00 PM to 11.30 PM (11.55 PM)
The morning session is from 9.00 AM to 5.00 PM while the evening session is from 5.00 PM to 11.30 PM (11.55 PM). During the morning session, you can trade agri-commodity futures.
However, agri commodities that are internationally referenced can be traded from 5.00 PM to 9.00 PM (9.30 PM). Gold, silver, natural gas, oil, and other bullions/energy commodities can be traded during the morning and evening trading sessions.
| | | | |
| --- | --- | --- | --- |
| Commodity Type | MCX Opening Time | MCX Closing Time (Standard) | MCX Closing Time (Daylight Savings) |
| Agri-commodities (Regular) | 9.00 AM | 5.00 PM | 5.00 PM |
| Agri-commodities (Internationally Referenced) | 5.00 PM | 9.00 PM | 9.30 PM |
| Bullion | 9.00 AM | 11.30 PM | 11.55 PM |
| Energy | 9.00 AM | 11.30 PM | 11.55 PM |
| Metals | 9.00 AM | 11.30 PM | 11.55 PM |
MCX Trading Sessions
Commodity market timings are divided into two different sessions as below.
1. Morning Session
The commodity market's morning session begins at 9:00 am and continues until 5:00 pm (5.30 PM). During this time, you can place orders on various commodity futures and options like bullions, base metals, and energy commodities.
2. Evening Session
The evening session of MCX is a very important time if you want to buy and sell bullion, base metals, and energy goods. This session starts at 5:00 pm and goes on till 11:30 (11:55 pm), depending on the time of the year.
This session includes the usual suspects like bullion, energy, and metal commodities as well as internationally referenced agri commodities. At times, the evening session remains open during commodity market holidays.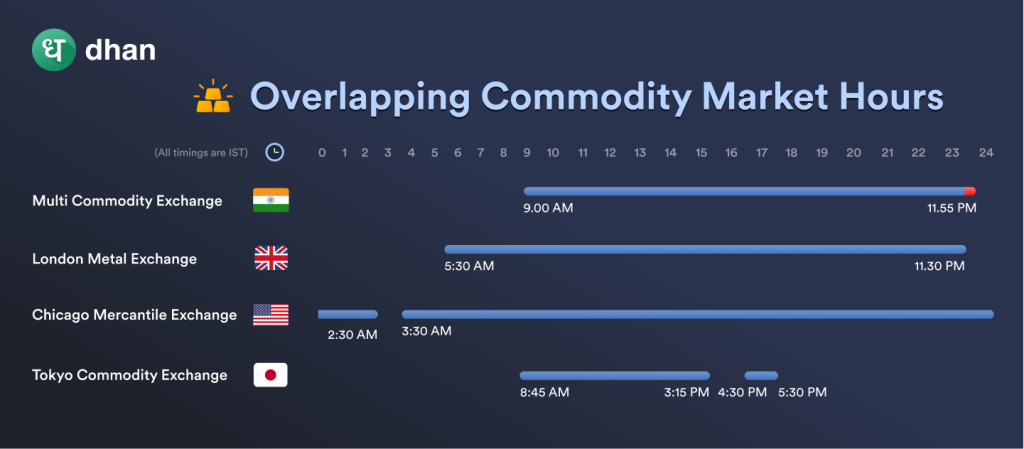 Why is MCX Closing Time Significant?
The MCX closing time marks the end of the trading day, after which no new orders can be placed. This time is crucial as it sets the day's final price and determines the contract settlement.
The closing time can impact commodity prices, especially if there is a sudden surge or decline in trading activity towards the end of the day.
News and movements from elsewhere may also impact the Indian commodity market near to its closing hours.
You can use the closing price to strategize and manage positions. Knowing the closing time gives you time to evaluate market circumstances and make decisions before the market closes, preparing you for the next trading day.
Trading During MCX Market Timing: Things to Remember
When it comes to trading around during the MCX market hours, there are several pointers to keep in mind for a better trading experience:
1. Plan Ahead
It is essential to have a well-defined trading plan in place. This includes setting your profit targets and stop-loss levels & being aware of any upcoming economic or market events that could impact prices.
2. Monitor Market Activity
Pay close attention to the market activity throughout the day and leading up to the closing time. Look for sudden changes in commodity prices. This data can help in making informed trading decisions. You can use a screener, scanner, or analyze open interest to achieve this.
3. Use Limit Orders
Consider using limit orders instead of market orders during closing time. Limit orders let you choose the price you want to buy or sell at, preventing price swings. Order fulfillment may not be guaranteed, however.
4. Be Mindful of Volatility
Market volatility may increase as the closing time approaches. Be cautious of rapid price movements and their potential impact on your trades. You may have to adjust your risk management strategies accordingly.
5. Monitor Volume and Liquidity
Assess the trading volume and liquidity of the commodities you are interested in before closing. Higher volume and liquidity can provide better execution and reduce the risk of slippage.
6. Review Closing Price Patterns
It is useful to study historical closing price patterns for the commodities you trade. This can give you insights into potential price movements and help you identify trading opportunities.
Remember, trading around in the Indian commodity market requires careful analysis and disciplined execution. Being mindful of these pointers can help guide you in the MCX market, especially when you just start commodity trading.
Conclusion
As a trader in the MCX market, understanding the importance of MCX market timing and the role of MCX is essential for your success.
By being aware of the MCX opening and closing times, you can effectively manage your trading strategies and make informed decisions. The closing time significantly impacts commodity prices and serves as a reference point for settlements.
Remember to stay mindful of volatility, evaluate volume and liquidity, and keep emotions in check. Armed with this knowledge, you can optimize your online commodity trading experience on MCX.