India boasts a dynamic commodity market with diverse opportunities that fascinate traders globally. This means that your online commodity trading experience would include tens if not thousands of commodities.
Traders either stick to one commodity or trade a list of commodities that they've been tracking for months if not years. That's why the best commodity to trade in India varies from trader to trader. But we've compiled a list either way!
What Commodities Are Traded in India?
You can trade commodities in the Options and Futures market in India with the majority of commodities being listed on the Multi Commodity Exchange (MCX) and The National Commodity and Derivatives Exchange (NCDEX).
The popular categories for commodity trading in India are as follows.
1. Agri Commodities: Wheat, Soya, Rice, etc.
2. Bullion: Gold, Silver, etc.
3. Energy: Natural Gas, Crude Oil, etc.
4. Metals: Aluminium, Copper, Lead, etc.
To tap into the potential of the commodity market, you require an understanding of the demand & supply of commodities, government policies, global market trends, market conditions, weather conditions, economic trends, and geopolitical conditions.
Furthermore, popular commodity exchanges like MCX have more than 20 commodity f&o that you can trade. Not all commodities are made equal, however.
Some commodities are typically cyclical, repeating patterns over the years or during commodity market hours. Others, not so much. That's why commodities with typically high volumes and OI stand out and are counted as the best commodities to trade in India.
Best Commodities to Trade in India
While there are numerous commodities you can select from, here is a list of widely traded commodities in India. Understand that no commodity is the ultimate best commodity to trade, it depends on your trading preferences, understanding, and risk appetite.
1. Gold
Demand for gold is ever-increasing in India as it is deeply ingrained in Indian culture for centuries, making it one of the best commodities to trade in India. It has historical value, and this precious metal is a shining star in the commodity market.
The yellow metal has gained about 90% in the last 5 years and provided an average return of 12% return in 2022.
Gold is among those commodities that retain its value during rising inflation, which is precisely why it acts as a hedge against inflation and economic uncertainties, providing a safe cushion for traders and investors.
2. Crude Oil
Crude Oil is always in demand globally, which makes it a highly liquid commodity. Between 2010 to 2021, Crude Oil offered a high return of 55% driven by the energy supply shortage and price rise.
Let's put it this way. Crude Oil is a scarce commodity whose supply is controlled by a select few countries (aka OPEC). Their outlook on the market, production, and strategies tend to move the price of Crude Oil.
Trading Crude Oil offers hedging opportunities against price fluctuations, making it the best commodity to trade in India during various scenarios like times of war. In fact, Crude Oil is known to outperform other asset classes during precarious international situations.
Either way, Crude Oil traders can protect themselves by taking positions in Crude Oil futures. This is known as hedging in the futures market. Check out the chart below to know the movement of Crude Oil as per the latest market conditions.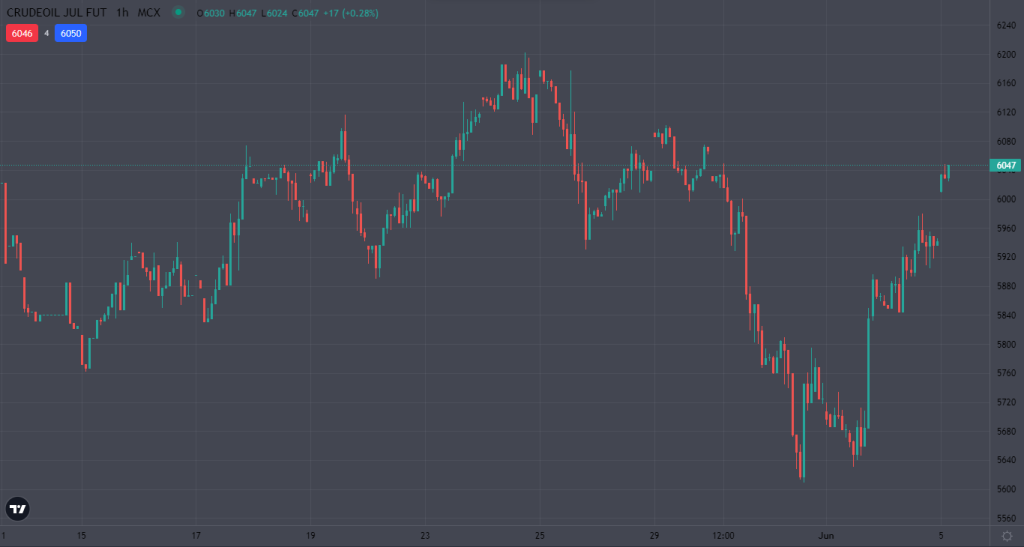 3. Natural Gas
If you want to trade commodities in the energy space apart from Crude Oil, Natural Gas can be an alternative. Natural Gas is a highly liquid commodity with a high trading volume.
Easy entry and exit from positions lead to efficient trading at competitive prices. However, its prices can be volatile driven by supply and demand dynamics, regulatory changes, geopolitical events, and other factors.
This makes it necessary for you to implement risk management strategies.
In January 2023, Natural Gas demand in India rose by 14% year-on-year basis. Further, its consumption is expected to rise by 4%, driven by a modest recovery in power sector gas use.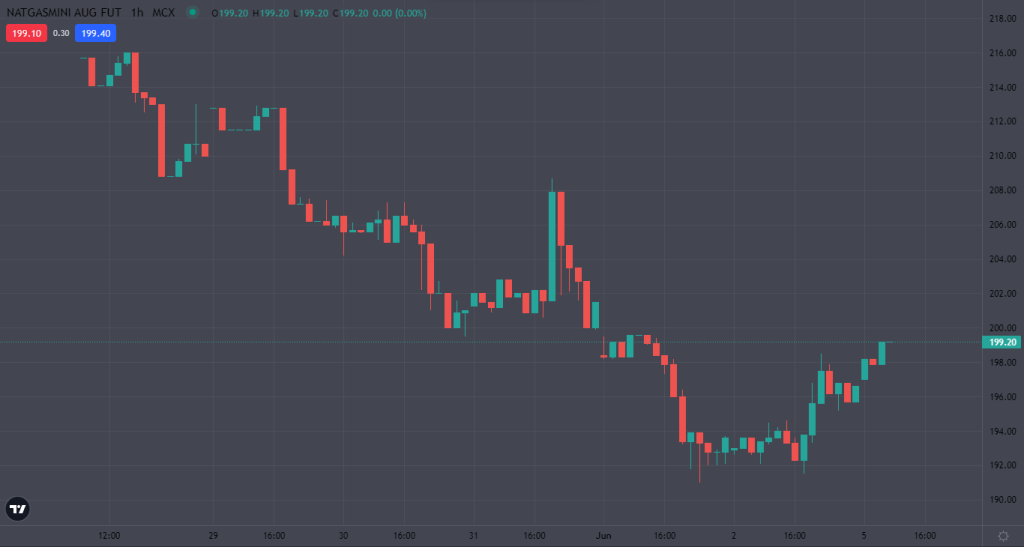 4. Silver
Cultural significance, affordability, and industrial demand make Silver among the most traded commodities. The rich cultural significance of the precious metal Silver creates its high and regular demand in India.
The volatility and liquidity in the Silver market attract active participation from traders and speculators as price fluctuations offer opportunities for potential profit.
Silver is much more affordable than gold. Its industrial demand (renewable energy, medical equipment, electronics, etc.) also remains high.
Additionally, the rise of EV vehicles and government initiatives for green infrastructure is also likely to strengthen the demand for Silver further. Such factors favor Silver's trading trends.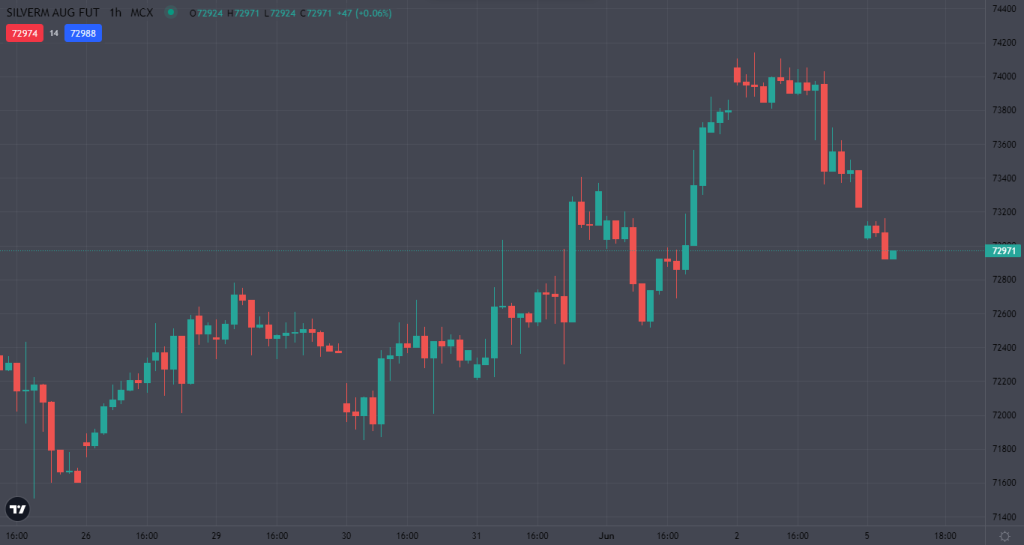 5. Copper
Copper is another popular commodity in India and is traded on the MCX. It encountered a milestone in March 2022 when its price gained an all-time high of 5.02.
Copper has various properties, including superior strength, high malleability, and exceptional thermal and electrical conductivity, which make this non-precious metal vital for numerous industries and activities.
The metal is in high demand for electrical wiring, utensils, machinery, and more. There is an anticipation that the refined Copper need will increase by 53% globally by 2040, but mine supply will be only 16%.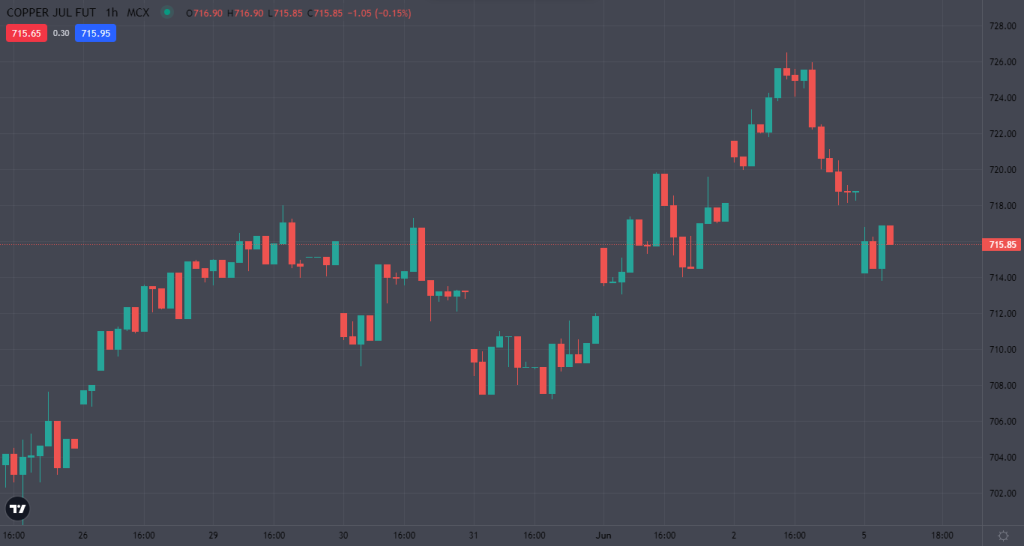 6. Cotton
India is the largest cotton producer with a global share of 23%. Along with that it also has the highest area under cotton cultivation at 39% worldwide.
Cotton is among the primary raw materials in textile industries and thus its demand is quite significant and consistent for the entire year. This also provides commodity traders with a lucrative opportunity and potentially high returns.
However, before trading this commodity, you need to understand seasonal factors and weather conditions that can impact the price dynamics.
Conclusion
The Indian commodity market offers diverse opportunities for you whether you are a novice or seasoned trader.
With an understanding of national and global market trends, economic factors, and other factors that can impact commodity prices, you can choose the best commodity to trade in India as per your suitability.
You can also elevate your commodity trading journey. All you have to do is open a commodity trading account on Dhan and unlock awesome features like the one shown in the video below.