A night without AC is a nightmare! With the increasing global warming and upgrading lifestyle, air conditioners have become the everyday essentials for many. The data shows that sales of ACs have doubled just like the temperature.

With the surging demand for air conditioners, guess which company benefited the most? That's right, it's in the title :p Amber Enterprises (slow drums). From Jan 2020 just the stock has surged by almost 294%!
If you think that you have never heard of "Amber Enterprises ACs", wait! We need to talk. There are a few interesting facts that we would love to put the spotlight on! What made this stock cool-er than others and what are the growth potential of Amber Enterprise's business? Let's deep dive into another amazing business!
What Does Amber Enterprise Do?
Let's analyze the business and see how Amber Enterprises India Limited adds value. Amber Enterprises India Ltd is one of the top players in the Air Conditioners- Original Equipment Manufacturer (OEM)/ Original Design Manufacture (ODM)- industry in India. It has a dominant presence in Room Air conditioners (RACs) and major RAC components with 12 manufacturing facilities across India.
Amber is largely an Original Design Player (ODP), the share of Original Equipment Manufacturer (OEM) is low- around 9-10% of revenue and 90% from ODM.
OEM companies manufacture products based on the designs provided by another company. The OEM manufacturer only manufactures what the buyer requires. ODMs, on the other hand, design and manufacture the products themselves. White labels or Blank Products are commonly used to describe these products. Buyer companies can rebrand the product and sell it as their own.
Amber Enterprises Products
Room Air Conditioners (Window AC, Split AC, Inverter Split AC)
AC Components (Electric Motors, Copper tubing, Heat Exchangers)
Non -AC Components (Plastic extrusions, Sheet metal components, Vacuum forming)
Mobile Air Conditioners ( Metro Air Conditioners, Bus Air Conditioners, Railway Air Conditioners)
A closer look at Amber's product portfolio:
1. Air Conditioners
Amber manufactures air conditioners ranging from 0.75 tons to 2 tons, with specifications ranging from 0.75 tons to 2 tons based on energy ratings and refrigerant types. Inverter RACs ranging from 1 ton to 2 tons are also designed and manufactured by the company.
RAC components include the manufacture of heat exchangers, electric motors, and multi-flow condensers, as well as non-critical components such as sheet metal components, copper tubing, and injection moulding components.
2. Other Components
It manufactures components for other consumer durables and automobiles such as case liners for refrigerators, plastic extrusion sheets for consumer durables and automobile industry, sheet metal components for washing machine tub assemblies, and for automobiles and metal ceiling industries.
Enough understanding of the product and jargon. Here come the famous companies who are major buyers of Amber's products.
Sector and Competition of Amber Enterprises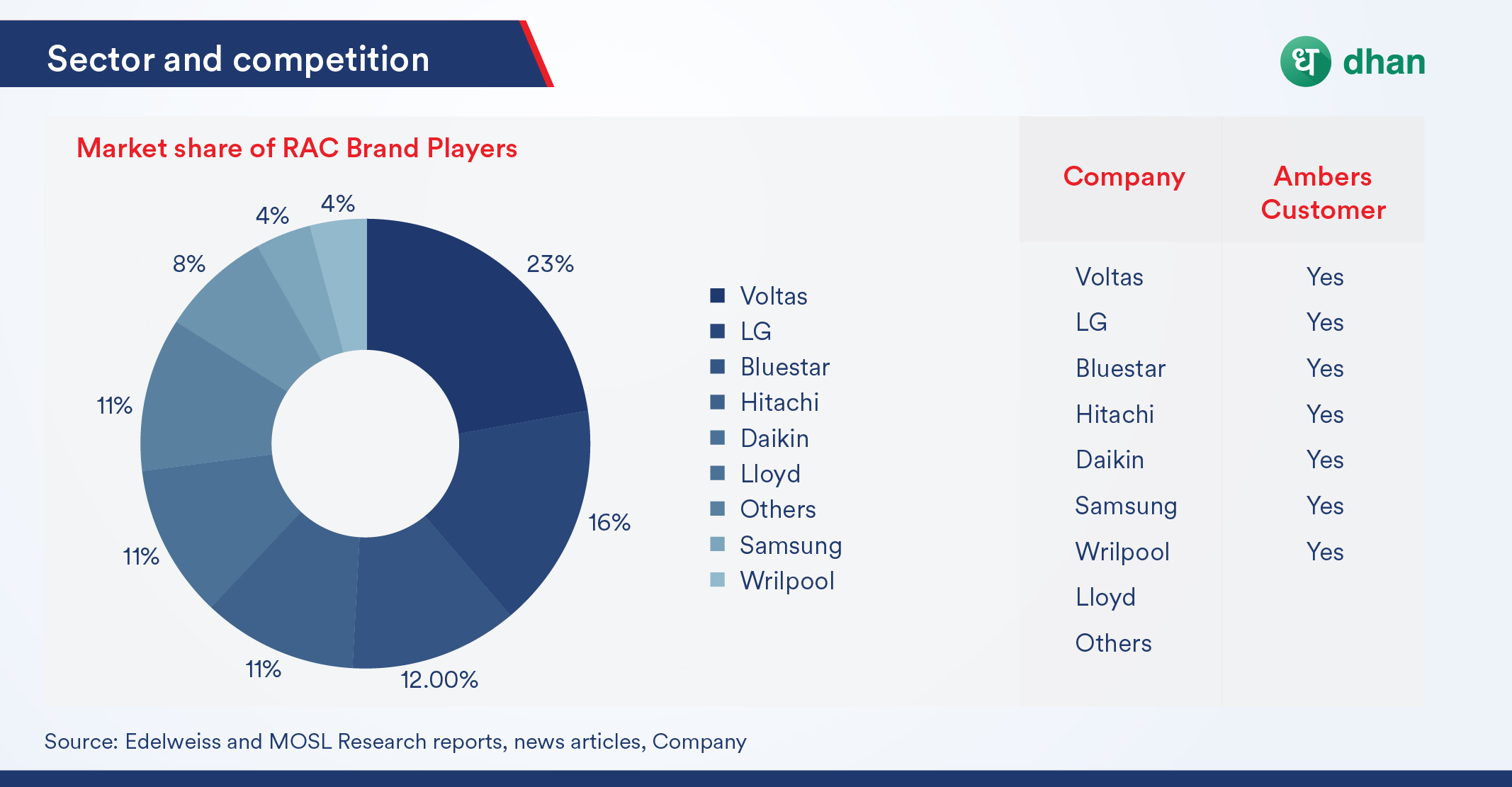 Amber serves eight of the top ten AC marketers in India, including Voltas, LG, Panasonic, Godrej, carrier, Hitachi, Daikin, Bluestar, etc. Collectively, these customers account for over 75% of AC sales in India.
Amber's top three customers are Voltas, Panasonic, and LG (~16-17% each). Further, the top 10 customers constitute over 75% of revenue. Amber has a long-standing relationship with these customers, with most of them having been with the company for more than five years.
The Sweet Spot of Amber Enterprises
Compared to other countries, the penetration of Air Conditioners market/(RACs) in India is less. To be precise, it's just 5% while the global average is 30%. There is a 95% market opportunity.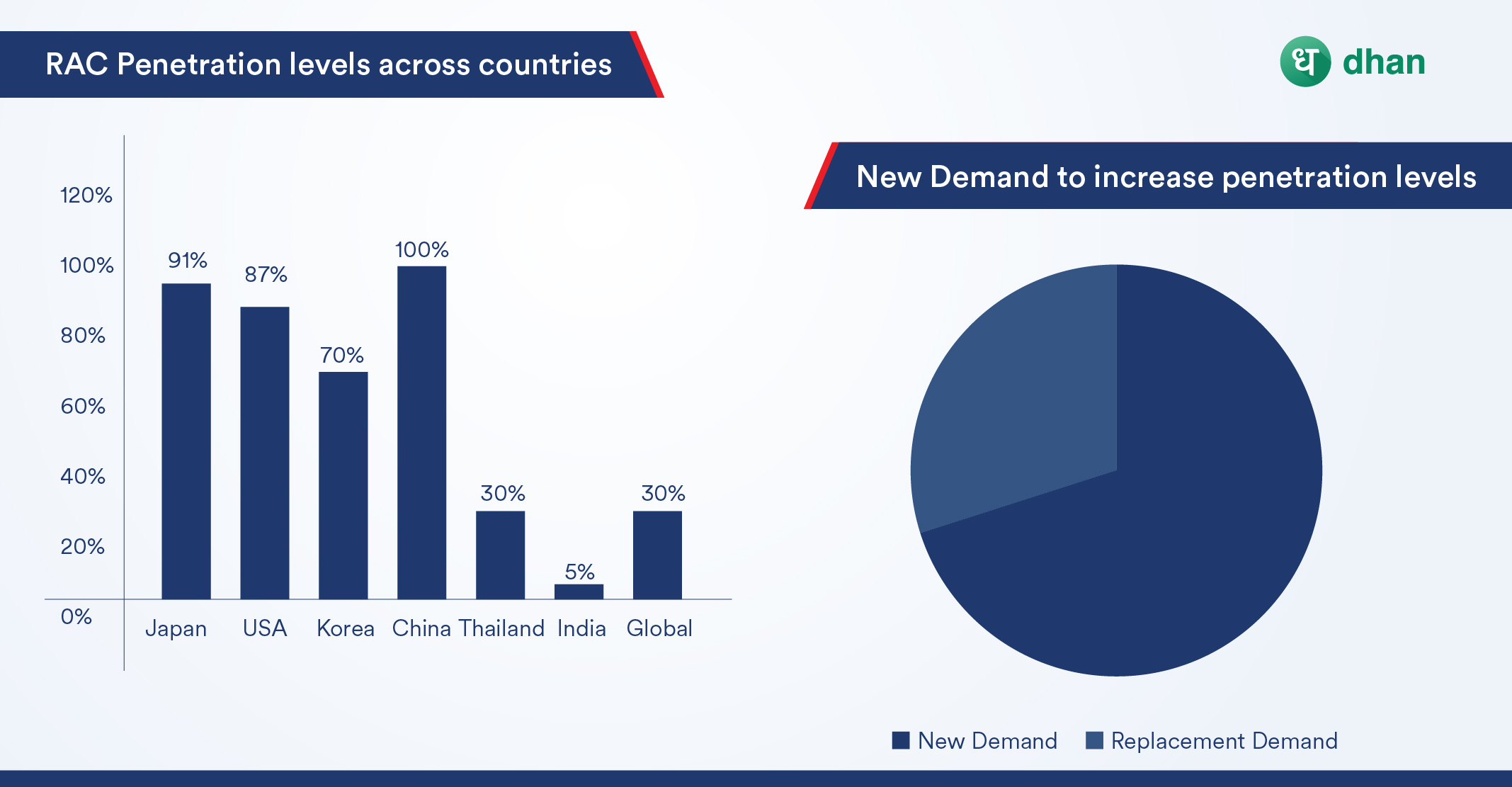 I might be wrong on this, but since most of us are working professionals, our bodies become accustomed to the AC's and they have become a necessity. It continues even after work, and you tend to use the AC more!
Did you know that: Low temperature can increase your productivity?
Coming back to the sweet spot of amber enterprises here are a few points that might help this industry to grow further.
India's Emerging Markets
India has a great opportunity in RACs. As current penetration levels in India is just 5% as compared with other countries which are as high as 90-100% and the global average at 30%. Any progress in this could drive sales of RACs significantly.
In comparison to other Asian countries, there is tremendous potential in the Indian market as the overall RAC penetration is relatively much lower. By the way, China's penetration level has increased to 100% in urban areas due to an increase in per capita income and rising human temperature. The same trends may be unfolded in India too (Finger crossed)
Growing Sector
The Indian RACs sector is growing by 14% over the last seven years. This could be because of multiple factors such as:
Increase in sales due to rising disposable income
More financing options BNPL (We can write an entire Blog for this)
Longer summers and shortening replacement cycles (Thank you climate change!)
Need for luxury goods
Thus, all these favorable factors could have a positive impact on the entire RAC industry.
Outsourcing
With the surging demand, there is intense competition to maintain the R&D and to capture more market share companies tend to invest in promotion and marketing rather than building the product by themselves.
This brings a great opportunity to the company (This technique is also called Asset Light Strategy).
There has been an increasing trend towards asset-light models in RAC Brands and outsourcing manufacturing processes over the period FY12-17, corresponding to an 8.7% CAGR in RAC industry growth and a 21% CAGR in OEM/ODM industry growth.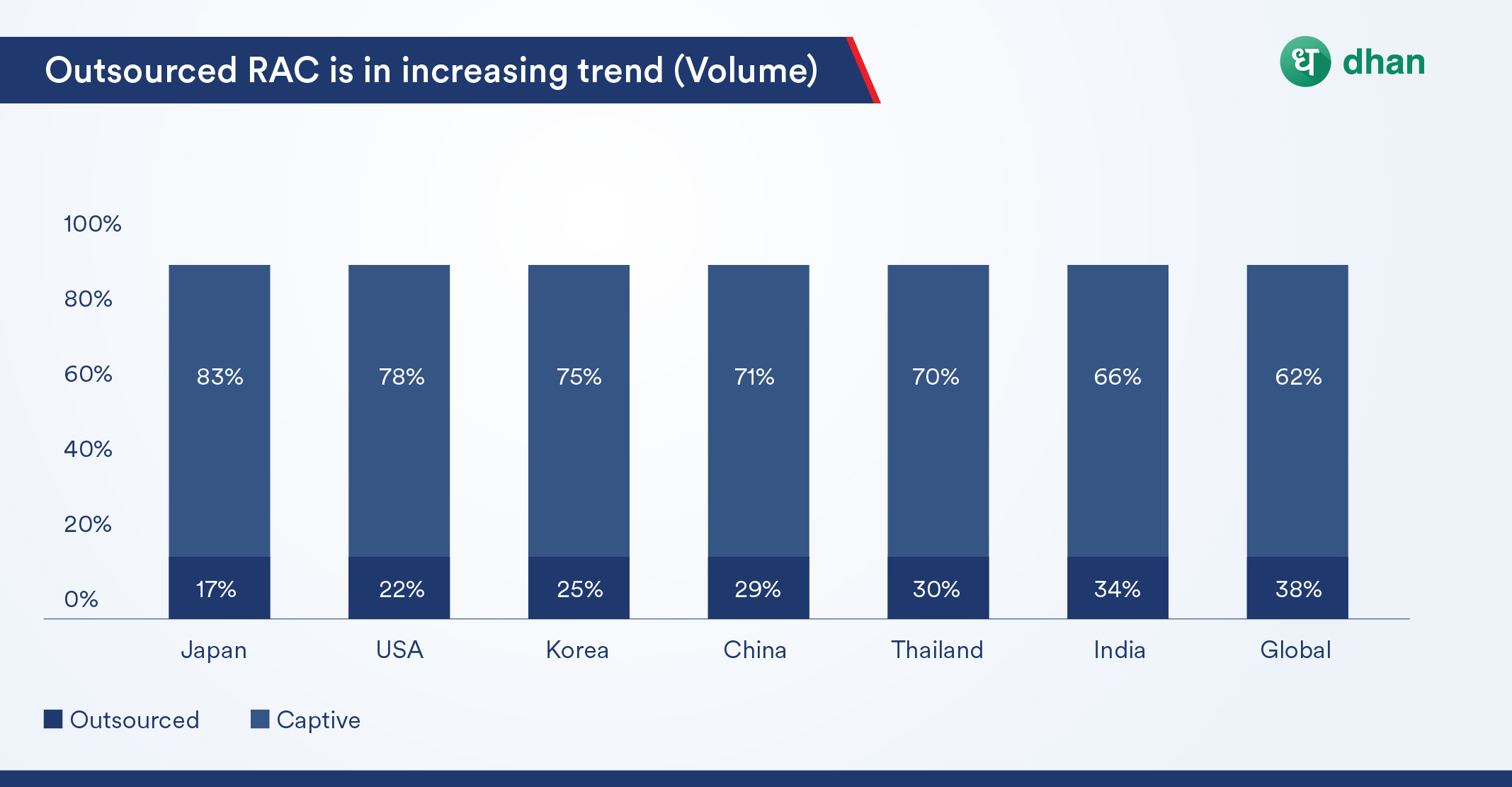 Few bonus points as you're enjoying this…
Amber Enterprises – Competitive Advantages
The company's manufacturing spaces are near its customers.
In order to increase capacity, there is a low CAPEX requirement. With Amber, additional demand can be met at a lower cost.
When capacity is most utilized (March, April, May), it is around 80-85%, while when capacity is least utilized (between 45 and 50%), it is around 45-50%.
The Sour Part: Risks for Amber Technology
"With great businesses come great risks!"
                                   -Jethalal Gada (Probably)
Amber Enterprises – Valuations
Due to the increase in disposable income and a massive bull run that we saw in these 2 years, valuations may not be justified.
Smaller companies generate large revenues
A large portion of Amber's revenue comes from their top three customers. Furthermore, Amber's top ten customers account for more than 75% of the revenue. Amber's demand could be negatively affected if any of these big customers lose their business. As a result, Amber sales may also be affected if these three customers (Panasonic, LG, Voltas) lose market share to new competitors.
Margins May Drop If..
RAC Brands are highly competitive and if brands focus more and more on cost reduction then it may lead to re-negotiation of contracts with Amber and this could impact Amber's margins.
Amber Enterprises India Limited: Financials
Are you someone who likes financials too along with the story? Well, we got you covered!
Fundamentals of Amber | Financials of Amber Enterprises
Conclusion
India has emerging markets and India has a great opportunity in RACs. The current penetration level in India is just 5% as compared with other countries which are as high as 90-100%. We have a significant portion to cover. With that said, it is also important to understand the risk involved in it.
So what do you think about Amber Enterprises? Let us know on Twitter @dhanhq and subscribe (Top right on the desktop, scroll to the bottom on mobile) to our weekly newsletter for interesting stories and deep market insights!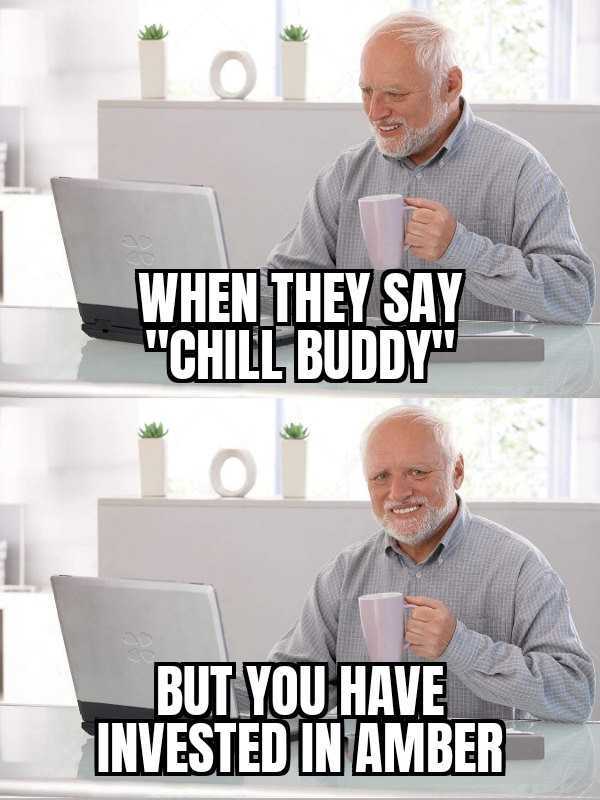 Let us know if you have any thoughts or feedback about what we should cover next.
See you in the next one 🙂
You can read more such interesting stories like:
Business analysis of – Borosil Renewables
Difference between Active & Passive Investing
Disclaimer: This blog is not to be construed as investment advice. Trading and investing in the securities market carries risk. Please do your own due diligence or consult a trained financial professional before investing.