A whopping 2,235% returns in 2 years? We're not kidding. Neither is this company. When the entire stock market was on a bull run, Borosil Renewables was marching to the moon!
With the rise in the sustainable energy sector, this 6-decade-old company – which has a significant hold over the market – witnessed a boom in its business. Currently, Borosil Renewables holds 55% of the Indian renewable energy market.
The stock returns suggest that it's a potentially good business. Is it really a good business or just a hyped-up energy company? Let's deep dive into Borosil's business to find out.
But, before we jump into the business, let's see what exactly Borosil Renewables manufactures and how it adds value to its partners.
What is the Business of Borosil Renewables?
Borosil Renewables is part of the Borosil Group. It is the only domestic manufacturer of Photovoltaic glass (PV glasses) in India.
PV glasses are a technology that enables the conversion of light into electricity.
The company is engaged in the production of low-iron textured solar glass for application in the solar power sector. It is also the world's first manufacturer of 2mm fully tempered solar glass.
Let's understand what exactly Borosil makes in solar panel manufacturing.
Firstly, solar panels are made up of solar cells. Solar cells are mostly made up of silicon. A semiconductor is the most abundant element on the earth. In layman's language when a photon (sunrays) strikes the silicon cell of the solar panel energy is created.
This is Borosil's business in a nutshell. Here's a visual explanation of how Borosil's process and contribution work.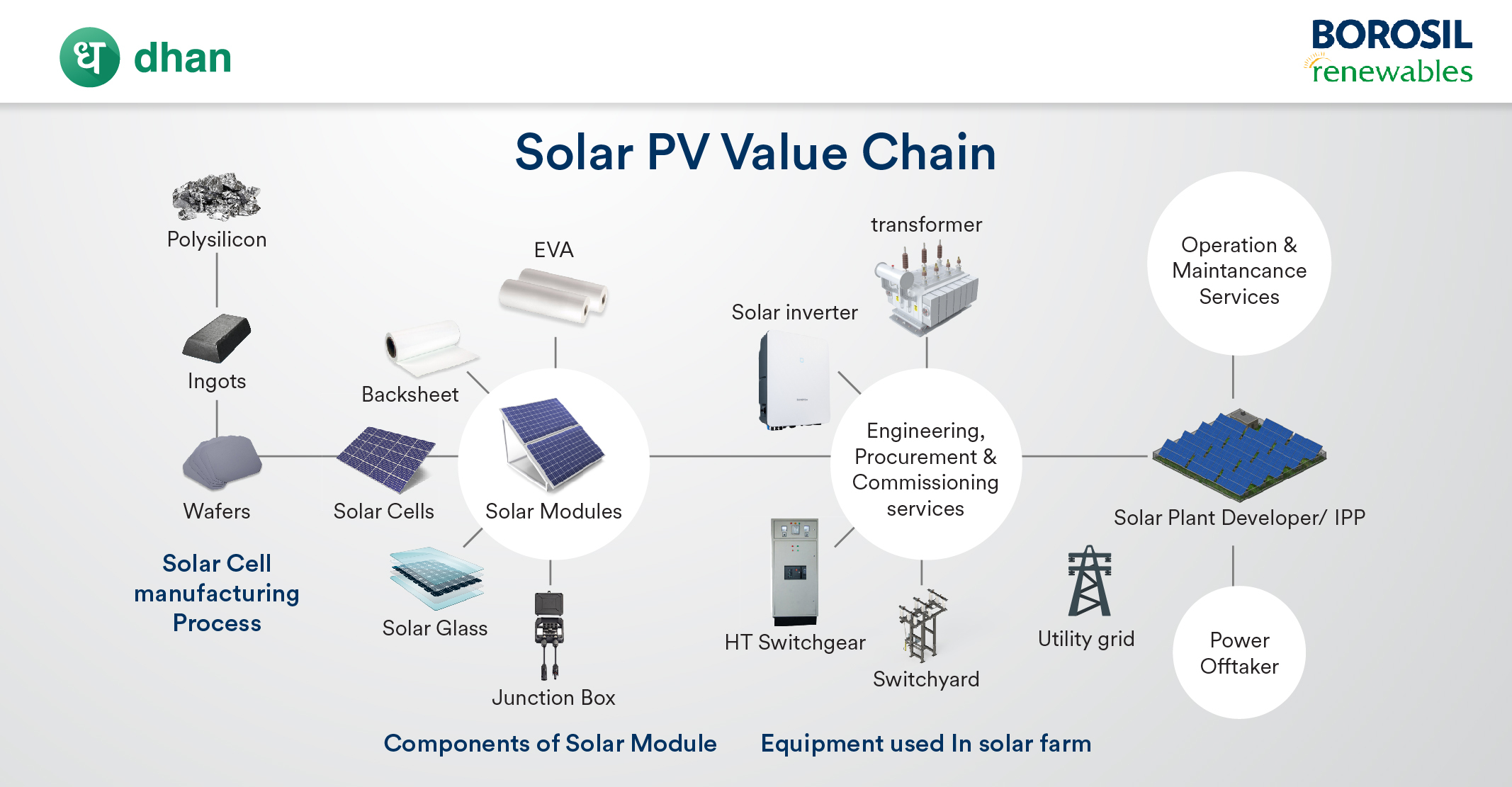 How Does Borosil Add Value?
As India is located near the equator, we are a sun-rich country. Despite being sun-rich the Indian solar industry is heavily dependent on imports of solar glass from countries like China and Malaysia.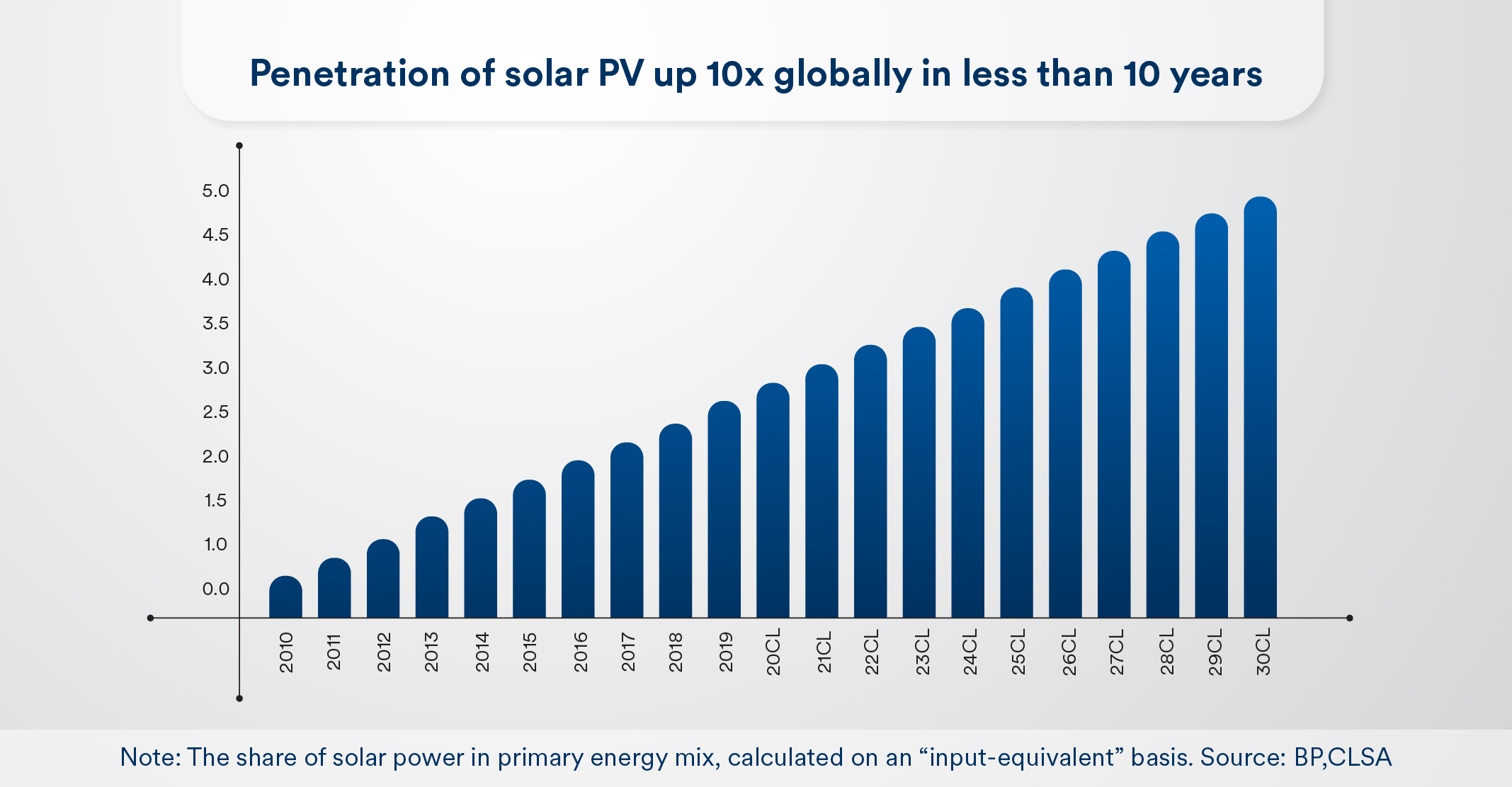 The solar power sector globally has been dominated by China during the last few years, which has become a major player in the solar industry. Now, Chinese manufacturers are using Malaysia and Vietnam as their new manufacturing locations to avoid international tariffs. While this is the scenario internationally, the sector in India is not crowded.
Borosil Renewables is the only domestic manufacturer of solar glass in India.
Indian PV module manufacturers lack competitiveness because of higher prices and lower capacity utilization compared to China. Currently, Indian solar manufacturers import most components and raw materials. As a result, locally made solar modules are nearly 33% more expensive than Chinese modules.
However, the Indian government boosted domestic manufacturing by imposing a safeguard duty of 25% on imported solar panels from China and Malaysia.
Sector & Competition
India is the world's 3rd largest producer and consumer of electricity. With globalization and increased prices of fuel, the use of renewable energy will increase significantly. This could only be good news for a company like Borosil that is into renewables.
The best way to witness this growth in the EV and renewable sector is by seeing the increasing sale of EVs in India. India generates 374 GW, and from renewable, it's just 90 Gigawatt hours (GW).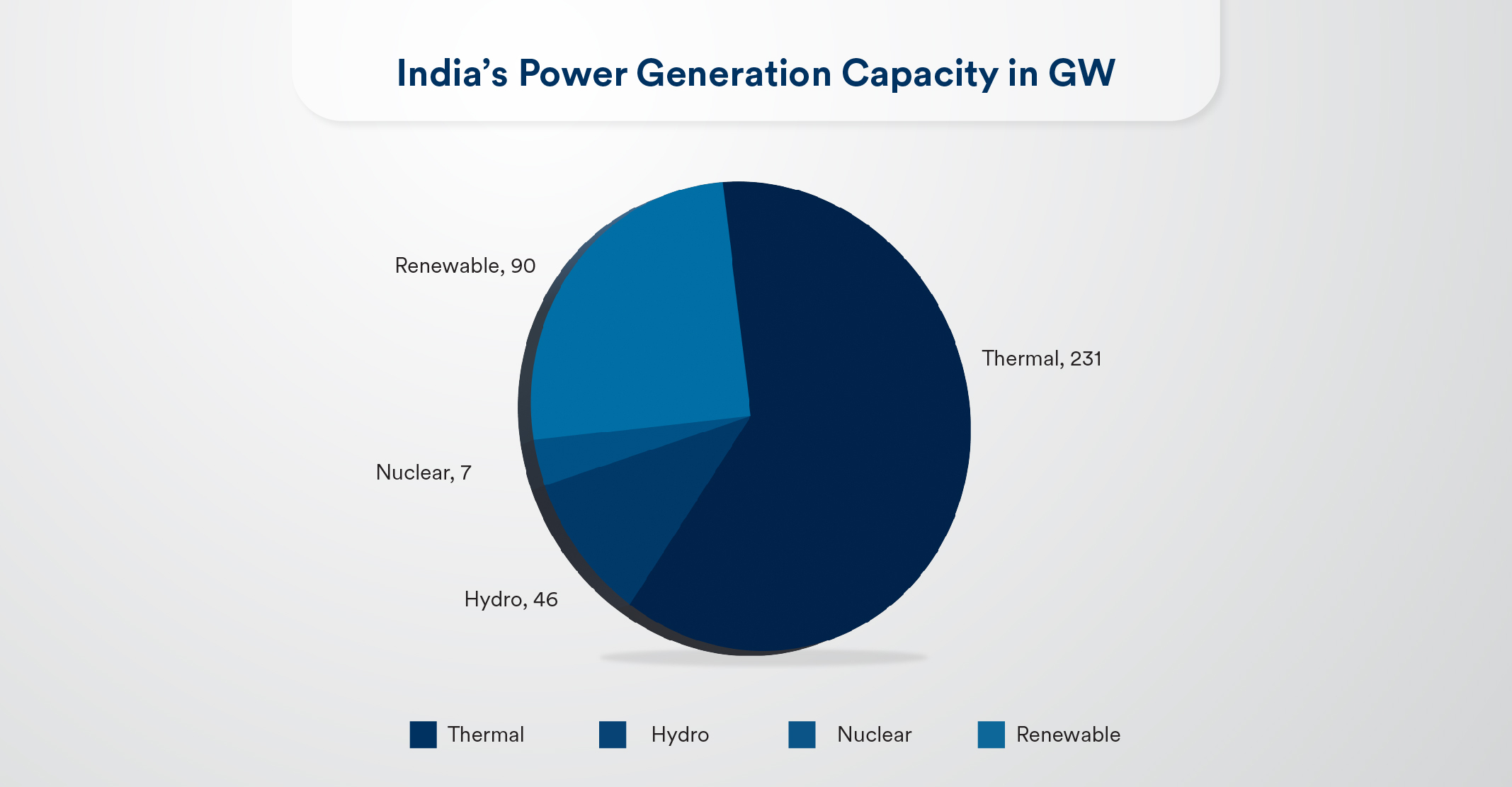 Did you know: 1GW can power 725,000 homes
From the above pie diagram, it can be said that India has great potential to grow in the renewable sector. In fact, here are more reasons why this works in India's favor.
Government targets to produce as much as 300 GW of energy from renewable sources by 2030.

Kusum Scheme – 26 GW of domestic manufacturing by 2022, with incentives for farmers to install solar pumps and grid-connected projects.

All electricity distribution licensees must purchase or produce a minimum quantity of renewable energy from renewable sources under the Renewable Purchase Obligation (RPO).
Why Does Borosil Renewables Have No Local Competition?
Borosil is the largest non-Chinese manufacturer of solar glass in the world. The current import duties to boost "Atmanirbhar Bharat' worked as a catalyst for Borosil Renewables.
Globally, approximately 97% of the market share is controlled by two Chinese companies Xinyl solar and Flat Glass.
The question is: will any new company enter the PV glasses segment? Here the margin behind every PV glass sale made by Borosil Renewables is 3-5% (according to reports) so there may be a slim chance that a new company could enter the sector or start building PV glasses.
But heavyweight companies like Reliance Industries & Andani plan to build a solar gigafactory that covers the entire solar chain (from silica to modules). But Borosil on the other hand has a huge market capitalization and grip on the industry.
Major players in this space like Vikram Solar and Waaree Technologies prefer outsourcing it from Borosil renewables rather than making it on their own. Similarly, if Reliance Industries and Andani plan to enter, outsourcing makes more sense as it will save technical and R&D costs.
The Sweet Spot: Pros of Borosil's Business
At present, India is observing strong traction in the solar sector worldwide. Solar energy is one of the fastest growing sectors in the world and countries are quickly adopting the trend of solar energy.
Technological innovation has made solar equipment costs go down compared to 10 years ago. The lower cost of solar installation played a huge role in the adaption.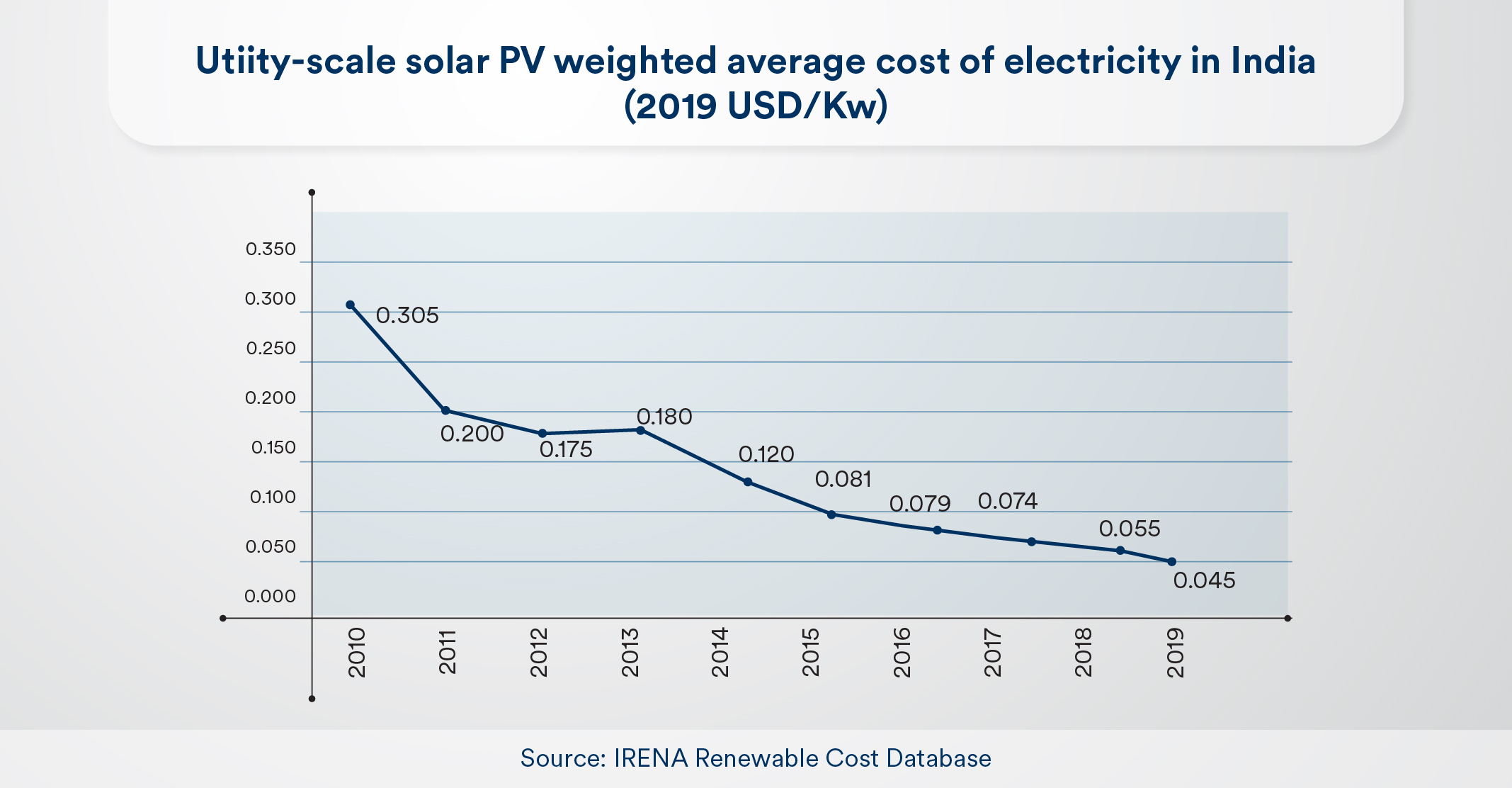 Borosil being a market leader enjoys a margin of 3-5% over the landed cost.
(Landed cost is the total price of a product or shipment once it has arrived at a buyer's doorstep.)
In July 2018, the Indian government imposed a 25% safeguard duty on solar cells and modules imports from China and Malaysia for two years, extending it till July 2021 at a 15% rate. In addition, from April 2022, solar module and cell imports will attract a basic customs duty of 40% and 25%, respectively, replacing the 15% safeguard duty.
The new taxation laws on imports of solar equipment play an important role in the Borosil renewables business.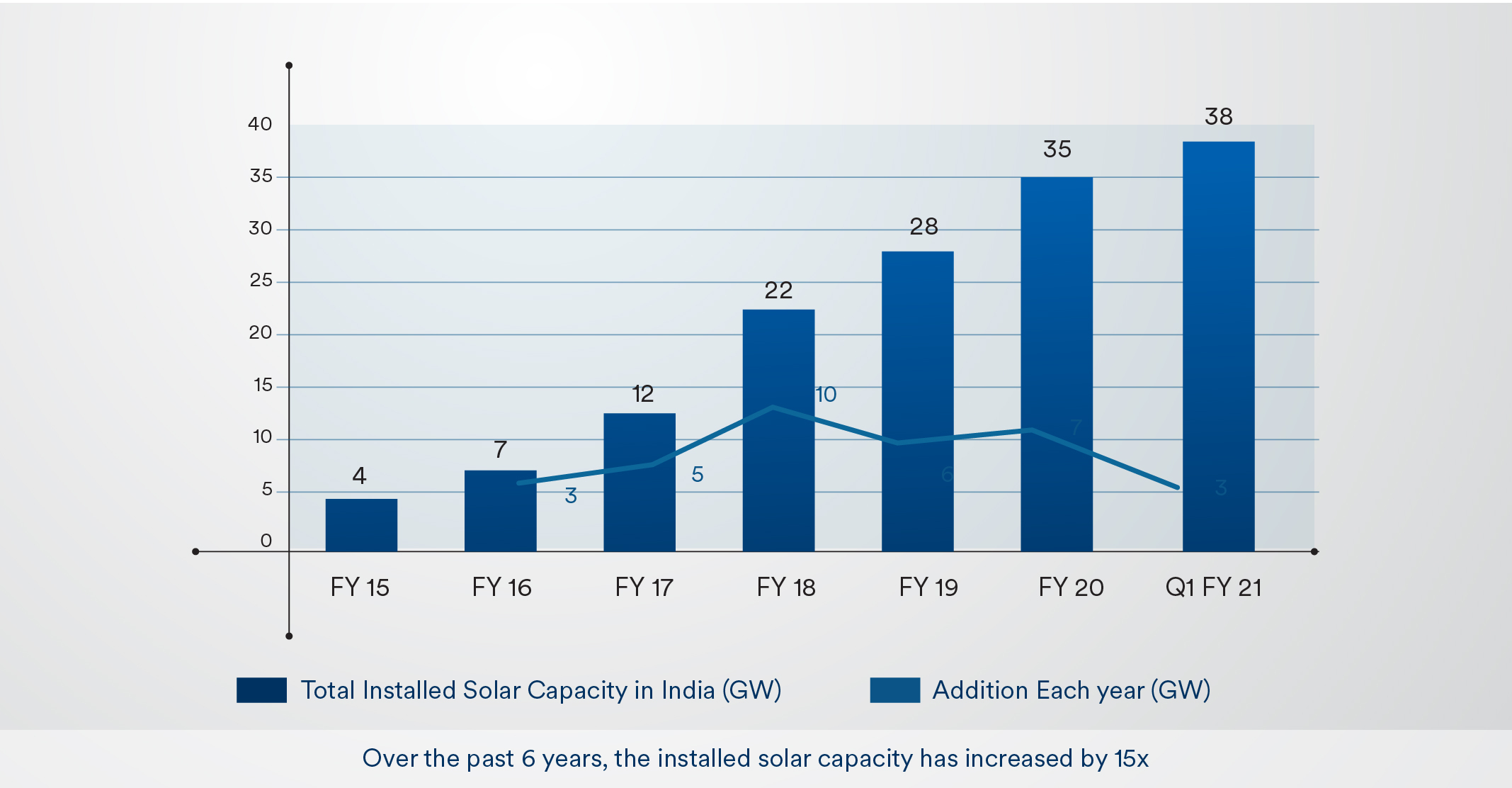 Over the past 6 years, the installed solar capacity has increased by 15x
Government
The Government is targeting 100 GW of installed capacity of solar power in India by 2022 and 300 GW by 2030. The government's objective is to establish India as a global leader in solar energy.
Schemes
In order to achieve the above number, the government has launched various schemes like Solar Park Scheme, Defence Scheme, Canal bank, VGF Schemes, CPSU Scheme & Canal top Scheme, Bundling Scheme, Grid Connected Solar Rooftop Scheme.
The Trend of Bifacial Glasses
Glass demand has been rising in the industry because the increasing prominence of bifacial panels, which coat both the top and bottom with glass, helps in higher power generation. Markets expect bifacial panel share in solar projects up to 50%, which was 14% in 2019, by 2022- 23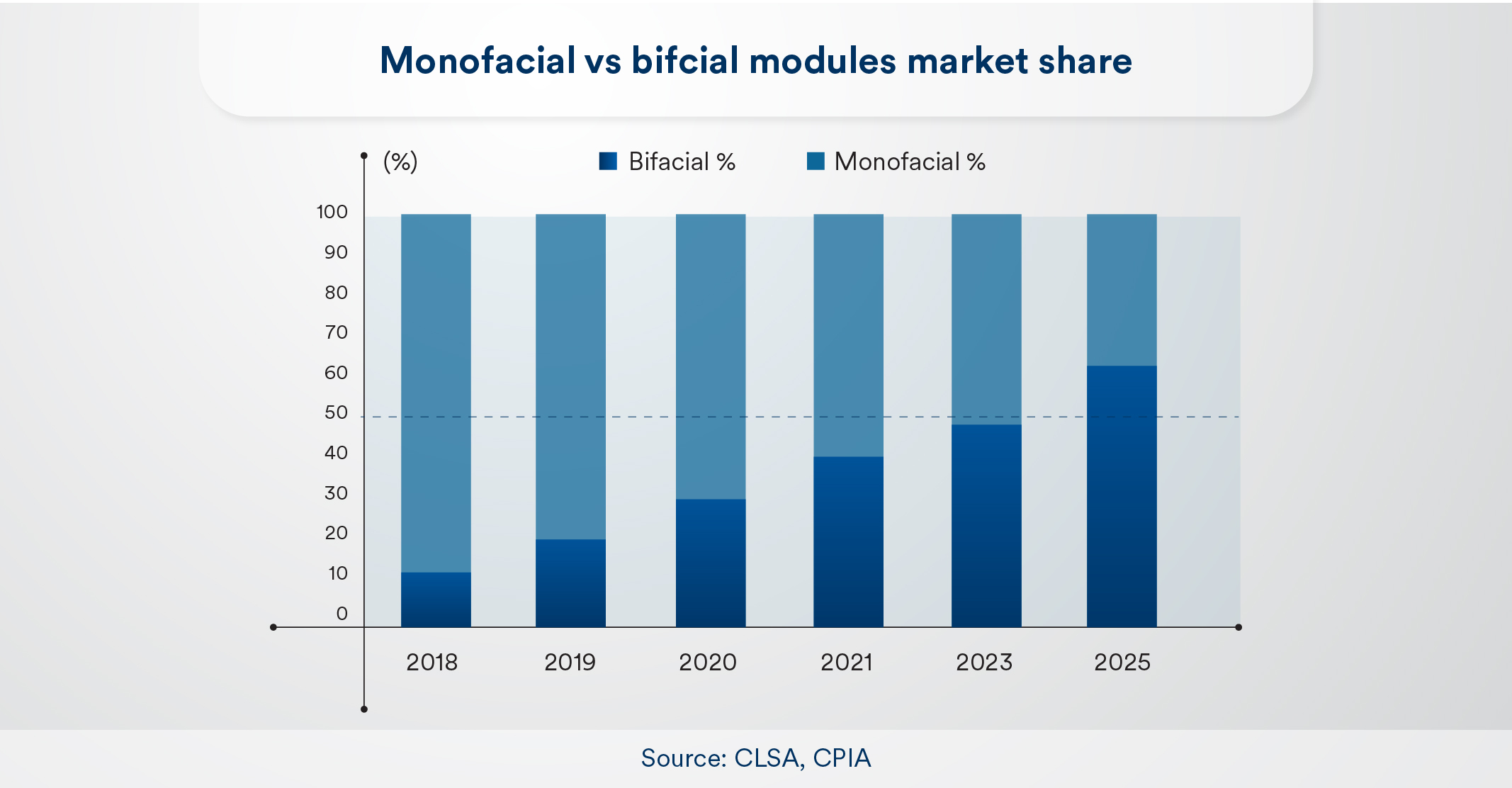 Over the long term, with the rising demand for thinner glass due to the permeability of double-glass modules, along with the development of the thin-film solar glass industry, the market demand for glass is likely to stay high.
Raw Material
Raw material plays an important role in any business. Here, the major inputs in Solar Glass are soda ash, silica sand, and power, which procurement is easily available for Borosil. The company is procuring more than 40% of raw material from local vendors.
Demand Outlook
Global Solar PV Glass Market is projected to grow at a CAGR of 24.60% from 2020-2025. With the high demand for solar glass and shortage on the supply side, the demand scenario looks positive.
The Sour Part: China's Participation & Monopoly
China is the World's largest PV glass producer which accounts for over 90% of the total solar glass capacity. The Chinese producers are setting up manufacturing plants in Malaysia, Vietnam, and Thailand mainly to cater to export markets.
A significant portion of these solar glass imports into the country today are happening from Malaysia. Also, manufacturing plants in Vietnam with large capacities are expected to be commissioned in the current year and in the next year.
If they continue dumping in India and the Indian government rejects the application of Borosil Renewables for anti-dumping duty, it can impact the margins of Borosil.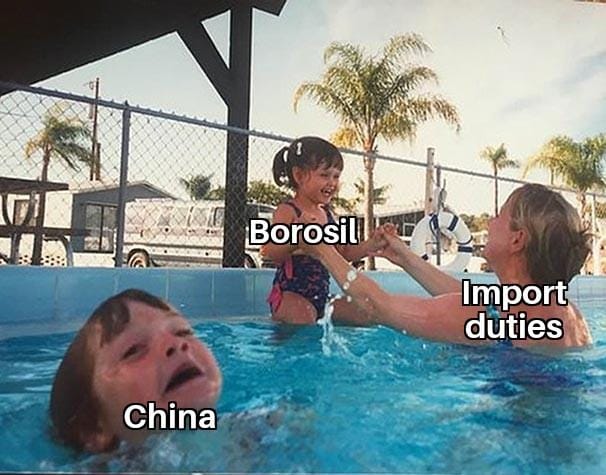 Xinyi and Flat Glass are adding new capacity aggressively. Flat Glass will add a total 4600 Ton/Day capacity and Xinyi will add a total 4000 Ton/Day capacity in 2021. Aggressive expansion of both companies can cause demand-supply imbalance.
Interested to know more about the company's financials? We got that covered too.
Borosil Fundamental Analysis | Borosil Financials
Conclusion
There is potential in renewable businesses as the market is in the growing stage and the cost of panels is decreasing significantly on top of it the government's mission is to establish India as a global leader in solar energy. Here the major risk lies with the import taxes.
So what do you think – is Borosil Renewable's business brighter than the sun? let us know on Twitter @dhanhq and subscribe to our weekly newsletter for interesting stories and deep market insights
If you have any thoughts or feedback, and what we should cover next do let us you.
See you in the next one 🙂
Disclaimer: This blog is not to be construed as investment advice. Trading and investing in the securities market carries risk. Please do your own due diligence or consult a trained financial professional before investing.