Many believe that the crypto market is the first to be open 24 hours a day. That's not entirely true. The international forex market has been open round the clock for decades. Does that mean India's forex market hours are also active all day, every day? Read on to find out. [Updated on 17-11-2023]
Latest Forex Market Hours for Trading in India
The forex market is diverse. There are central banks, hedge funds, and even tourists participating in it in some form or other. What you're concerned with is the currency trading market hours, which is a subset of the broader forex market.
India's currency trading market is a place where participants can buy and sell exchange-traded currency derivatives. It is made up of exchanges, brokers, and participants like banks, corporations, and retail traders like you.
The currency pairs that you can trade either include INR as the quote or don't include INR at all. This difference is important because the forex times for both types of currency pairs are different.
That said, there is a significant overlap in the market hours for trading either currency type. Here's a detailed explanation of the forex market hours for INR pairs and cross-currency pairs.
1. INR Currency Trading Timing in India
During these trading hours, forex traders in India can buy and sell futures for four currency pairs: USD-INR, EUR-INR, GBP-INR, and JPY-INR. These pairs are commonly abbreviated as FCY-INR, where FCY means foreign currency.
INR Forex market open time: 9.00 AM
INR Forex market close time: 5.00 PM
The market for trading FCY-INR pairs opens at 9.00 AM, three and half hours after Japan's and two and a half hours after Australia, Hong Kong, and Singapore's forex markets start.
This is important because overlapping markets are generally known to impact the liquidity and volatility of certain currency pairs, especially if it is a widely traded quote or base like JPY.
By the time the Indian forex market closes at 5.00 PM for INR pairs, there's a relatively high overlap with the European forex markets, especially Germany and the UK. This is known to have a bearing on the GBP-INR and EUR-INR pair.
2. Cross-Currency Trading Timing in India
You can trade futures for three cross-currency pairs, EUR-USD, GBP-USD, and USD-JPY. As you can tell, these forex trading pairs have two foreign currencies as the base and quote. USD appears in all of them.
That's why the forex market hours for these cross-currency pairs are relatively different than the INR pairs. You'll notice that they're two hours longer and overlap with the forex market hours of the USA, UK, and Germany.
Cross-Currency forex market open time: 9.00 AM
Cross-Currency forex market close time: 7.30 PM
Although the currency market timing for cross-currency pairs is longer, there may not always be optimal liquidity.
Now that you've more or less understood India's currency trading hours, you'll benefit from finding out the trading holidays for exchanges like MSE, NSE, and BSE.
Forex Market Holidays in India
The forex market is not open on public & national holidays. In fact, there are 19 holidays in 2023 during which the forex market will remain closed. Here is a complete list of trading and clearing holidays.
| | | | |
| --- | --- | --- | --- |
| Event | Date | Trading Holiday | Clearing Holiday |
| Republic Day | 26-01-2023 | ✓ | ✓ |
| Holi | 07-03-2023 | ✓ | ✓ |
| Gudipadwa | 22-03-2023 | ✓ | ✓ |
| Ram Navami | 30-03-2023 | ✓ | ✓ |
| Mahavir Jayanti | 04-04-2023 | ✓ | ✓ |
| Good Friday | 07-04-2023 | ✓ | ✓ |
| Dr. Babasaheb Ambedkar Jayanti | 14-04-2023 | ✓ | ✓ |
| Maharashtra Day | 01-05-2023 | ✓ | ✓ |
| Buddha Pournima | 05-05-2023 | ✓ | ✓ |
| Bakri Eid | 29-06-2023 | ✓ | ✓ |
| Independence Day | 15-08-2023 | ✓ | ✓ |
| Parsi New Year | 16-08-2023 | ✓ | ✓ |
| Ganesh Chaturthi | 19-09-2023 | ✓ | ✓ |
| Eid-E-Milad | 28-09-2023 | ✓ | ✓ |
| Gandhi Jayanti | 02-10-2023 | ✓ | ✓ |
| Dussehra | 24-10-2023 | ✓ | ✓ |
| Diwali/Balipratipada | 14-11-2023 | ✓ | ✓ |
| Gurunanak Jayanti | 27-11-2023 | ✓ | ✓ |
| Christmas | 25-12-2023 | ✓ | ✓ |
Fun fact: There are 6 public holidays in 2023 that fall on a weekend. That's why they do not make the list.
Why is the Forex Market Considered 24 Hours?
The forex market is unique in the sense that it is open somewhere around the world at any given point in time. For example, a forex trader in New Zealand starts their day at 3.30 AM IST; a US forex trader ends their day at 2.30 AM IST.
Since the North American market is open after midnight in IST, forex trading technically goes on for 6 days a week from an IST perspective. But there's a catch. Not every currency pair is liquid round the clock.
There's a logical reason for this. Every country has a native currency (INR) while others use a common currency (like the EUR).
Traders from that country or region are more likely to use their domestic currency en masse during their forex market hours.
Furthermore, volatility is known to be high in the international forex market when there's an overlap in trading sessions between regions and countries.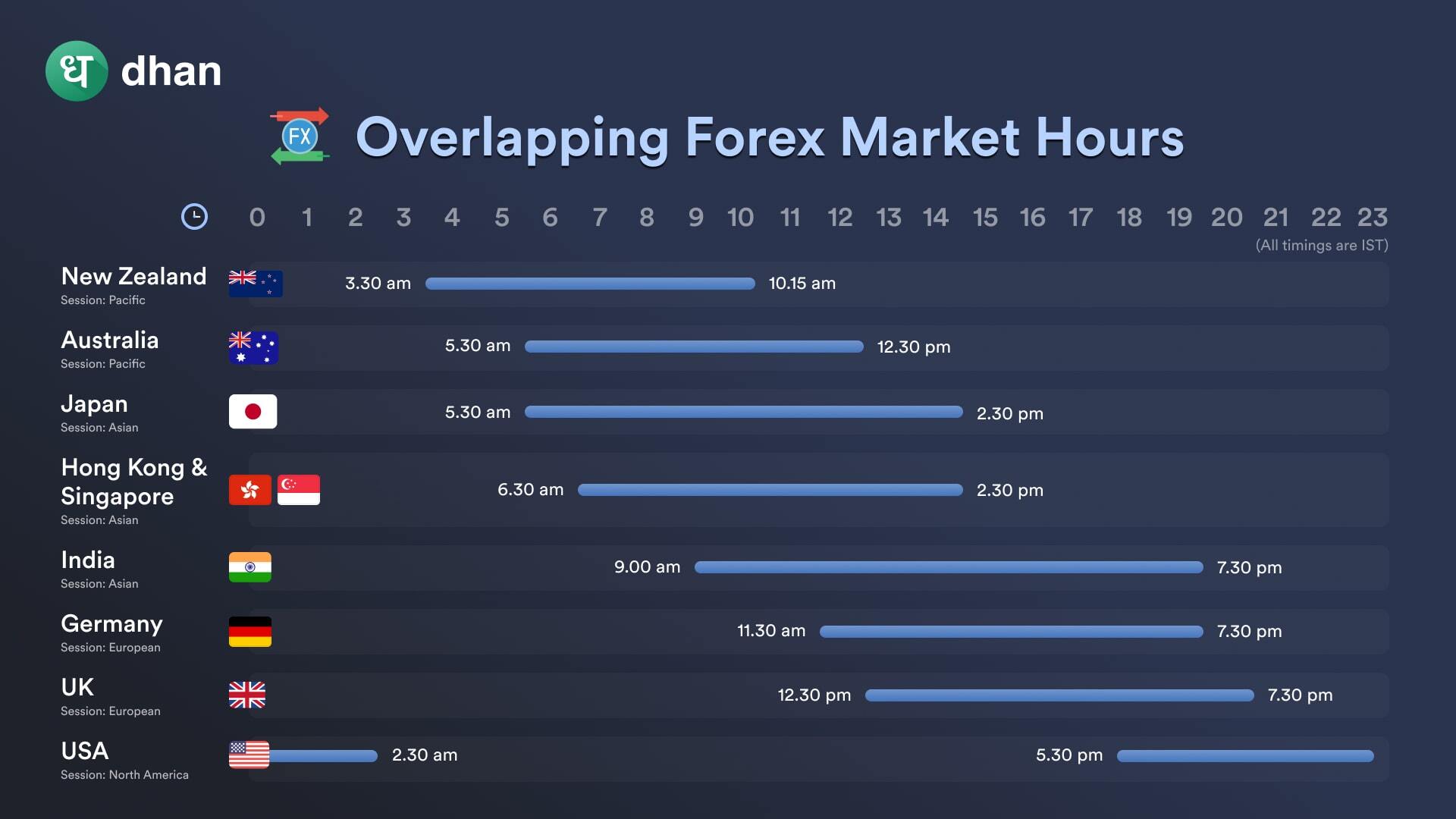 Thus, it's not a stretch to say that someone somewhere is will start currency trading at any given hour of the day. After all, many forex times overlap. But, it's important to acknowledge that not all times are the best times to trade forex.
Best Time to Trade Forex in India
The currency market in India is open from 9.00 AM to 5.00 PM while trading can go on till 7.30 PM as well for cross-currency pairs. That said, liquidity and volatility aren't always the same throughout India's forex market hours.
They vary based on overlapping trading sessions around the world. We touched on this point previously. The logic is that a currency pair may be subject to more or less trading activity based on two factors.
The first is domestic, related to a country's trading hours. For example, a currency pair that has USD as the quote or base may have potentially high liquidity during the US' currency trading hours.
Experts also suggest that the best time to trade forex may be when multiple trading sessions are active across the globe, overlapping and creating a spike in trading activity.
Conclusion
The currency trading time in India is from 9.00 AM to 7.30 PM. INR currency pairs can be traded till 5.00 PM while some cross-currency pairs can be traded till 7.30 PM. The forex market in India will be closed for 19 days in 2023.
While the currency market may be an avenue for wealth creation, it is known to be relatively risky for retail traders because of the global nature of the market and the presence of big players who can price out smaller players.
Thus, it's important to figure out your ideal trading system, right from the indicators to your stop loss levels. Remember, building wealth in the currency market PIP by PIP takes research, patience, and risk management.
FAQs
Q. What time does the forex market Open in India?
The forex trading market in India opens at 9.00 AM (IST), which means currency trading can take place from that time onwards.
Q. At what time forex market closes in India?
The forex trading market in India closes at 5.00 PM (IST) for most currency pairs. The market closing time for certain cross-currency pairs is 7.30 PM (IST).
Q. What time is the New York session in India?
The New York forex session opens at 5.30 PM IST and closes at 2.30 AM IST. Certain cross-currency pair trading hours in India overlap with the US's market for more than an hour.
Q. What time is the London forex session in India?
London's forex session starts at 11.30 AM IST and ends at 8.30 PM IST. There is a significant overlap between the London session and the India session.
Q. What are forex holidays for 2023 in India?
Forex holidays are the days on which you can't trade currency derivatives in India. Exchanges remain shut on holidays due to which orders for forex futures and options can't be placed. The entire list of forex holidays 2023 in India is covered in the table above.
Disclaimer: This blog is not to be construed as investment advice. Trading and investing in the securities market carries risk. Please do your own due diligence or consult a trained financial professional before investing.