Traders undertake stock market trading from a long-term or a short-term investment perspective. Intraday trading or day trading relates to buying and selling stock on the same trading day before the stock market closes.
As such, in intraday trading, no change in ownership of stock takes place. However, if you fail to settle your intraday trade, your broker could either convert the same into a delivery trade or square off your intraday position.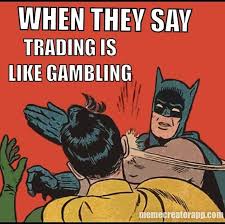 How is Intraday Trading Different from Investing?
The fundamentals of intraday trading differ from long-term investing, so individual investors consider it riskier than regular stock market investing. This made them undertake day trading activities via professional financial organisations or traders.
The advent of digital technology has given rise to the popularity of the online stock trading platform. So, even if you are a beginner to the day trading, you can easily start trading via stock market trading app or online trading platform. 
However, the stock market being volatile, your gains are not dependent only on the upward movement of the market. You could make gains even in a downward market. This means that a day trader can gain even in a volatile market.
As an intraday trader, therefore, you need to identify the right stock and be able to gain irrespective of the existing market trend. An intraday trader must be very alert and not let emotions override their trading decision-making.

📌 Also read: Value Investing vs Intraday Trading – The Exact Difference
5 Most Important Things in Intraday Trading
A disciplined approach is very important in intraday trading. The key tips discussed below would help you understand day trading better and make the right moves.
📅 Create a Solid Trading Plan
To counter market volatility and related trends, you need to have a smart trading plan in place. It should help you make objective and carefully considered judgments and decisions related to booking profits, buying/selling a stock, and so on.
💸 Maintain an Intraday Trading Fund
You should allocate only a specific sum of money or per trade based on your risk appetite. This will help to mitigate huge losses in intraday trading.
🚫 Initiate a Stop-Loss Order
Discipline is an important trait of a good intraday trader that sets them apart from the crowd. You should maintain the stop-loss order mechanism. This will ensure that through the automated stop-loss process, there will be a buy/sell order when the stock prices touch a specific level. A stock price undergoes fluctuations throughout the trading day. So, having stop-loss enabled will save you from holding high loss positions, especially in a highly volatile market.
🔍 Track Market-Related News
As an intraday trader, you will always have to be aware of the latest market news, including macros and corporate news. This will help you to manage day trading in an organised manner.
📈 Avoid Over-Trading
A smart day trader will trade only in a handful of right stocks at a time by carefully evaluating the company before trading in their shares.
To Sum Up
The above key fundamentals call for a disciplined approach to day trading. As a beginner, it is therefore important that you get the stock basics right to avoid losses in intraday trading.
The goal of a successful trader is to make the best trades. Money is secondary.

Alexander Elder
📌 You can also read:
There is more…
Watch: Dhan Podcast Ft. Subhadip Nandy on Current Market Scenario
Discuss: 3 Important Factors in Trading Strategy
Happy Trading 📈
Disclaimer: This blog is not to be construed as investment advice. Trading and investing in the securities market carries risk. Please do your own due diligence or consult a trained financial professional before investing.