By investing in the stock market, you may accumulate funds for your children's further education, retirement, and any unexpected costs.
Our fundamental motivation for investing is to achieve our life goals.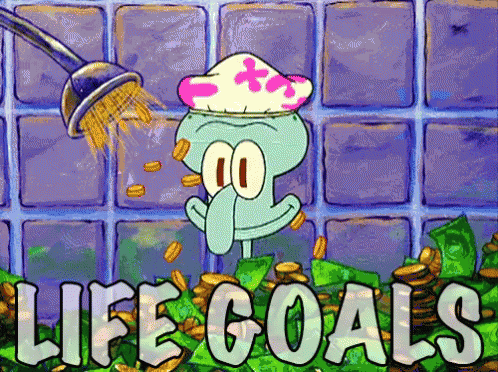 Goals are objectives that we wish to accomplish within a specified period. Numerous financial methods can help attain them. Among them, is to invest in the stock market.
Successful investing is about managing risk, not avoiding it.

Benjamin Graham
We will examine the 4 objectives and understand how to achieve financial goals by investing online through this post.
🧒 Creating a corpus for children's education
India has one of the highest rates of education inflation. Admissions at the country's top management colleges have increased by 6 to 19% for the 2018-20 batch, which means students will spend an additional Rs. 90,000 to Rs. 2.1 lakh for their studies. This is just going to increase in the following days.
To keep up with the spiralling expense of education and develop a corpus for it, it's critical to invest in inflation-beating products like equities. By systematically investing in the stock market, you may amass the funds necessary for your children's further education.
👴👵 Amass riches in preparation for retirement
Retirement is the moment to reap the benefits of your years of hard work. However, this is only achievable if you have a sufficient cushion to cover your post-retirement expenses. To accumulate a sufficient retirement fund to see you through this era.
Inflation is a critical factor to consider while building a retirement fund, as it gradually erodes the value of capital. As a result, it is critical to invest in inflation-beating securities. Investing in the stock market might assist you in building sizable retirement savings.
💰 Meet any unexpected expenditures
Emergencies may strike at any time, making it financially sensible to be prepared. It is critical to have easily available finances while dealing with an emergency. Investing in the stock market enables you to accomplish precisely that.
This is due to the ease with which stocks may be liquidated. If you invest in fundamentally good stocks, you may liquidate them at any time. It is critical to note, however, that the equities you buy-in must come from firms with strong fundamentals. Only then may you sell them when necessary.
✔️ Amass finances for short-term objectives
Short-term objectives are those that you wish to achieve within the next three years, such as taking a vacation or purchasing a car. You may fund these endeavours by investing in the stock market. By purchasing equities that have done well over several market cycles, you may amass assets for the aforementioned objectives.
Takeaway
Having said that, it is critical to use caution and patience while investing in the stock market.  Online investing is an excellent way to put your money to work for you—thanks to compound interest—and potentially increase your wealth. Markets are cyclical, and as such, it is critical not to panic and withdraw from investments in response to short-term volatility.

Here are 10 personal finance lessons that will also give you a clear understanding about long-term investing and how it can help to achieve your goals and dreams.
📌 You can also read:
Happy Investing 😇
Disclaimer: This blog is not to be construed as investment advice. Trading and investing in the securities market carries risk. Please do your own due diligence or consult a trained financial professional before investing.