A Demat account enables you to trade in stock market products. It is mandatory to open Demant account in order to perform transactions in the stock market. You can open multiple Demat accounts with multiple brokers. However, only one account can be accessed from one broking platform.
Why do People Transfer Shares from One Demat Account to Another?
While investors enjoy the benefits of online stock trading through a particular Demat account, they may sometimes choose to transfer their existing shares to another account. Some of the possible reasons could be:
Maintaining a single account for all trades.
Low customer satisfaction or a bitter experience with their current broker platform.
Another broker may cost less or provide higher benefits than their current broker.
For organising investment portfolio. An investor may choose to maintain a particular group of securities/assets with one broker, and may move the rest to another account.
User experience. An investor may want to shift to another broker for better trading options.
What is the Process to Transfer Shares?
An investor needs to follow the below steps in order to transfer shares from one Demat to another:
Steps to Transfer Shares via Your Stockbroker
Ask for a Delivery Instruction Slip (DIS) from the broker.
Fill this out and give it to your Broker, who will forward the same to the Central Depository.
The Central Depository (CSDL or NSDL) then makes the verification and proceeds for transfer to the new account.
Once the transfer is done, you will receive credentials to login into the new account. You can start with the trading process once the account is active.
Steps to Transfer Shares Online via Depository
You can opt for online transfer by visiting the CSDL (or NSDL) website.
After registration, select the 'Easiest' option on the website, and fill in your details.
Take a print-out and hand it over to your current DP.
*The next steps are as described above.
Steps to Transfer Shares Offline via Manual Transfer
Transferring manually is similar to the online process. The only difference is that you need to manually fill in the DIS-related fields. Check the below fields while filling the form:
16-digit Broker ID
12-digit security ISIN
Names and identification details of the existing and new brokers
Signatures of the relevant parties
Once the form is duly filled, submit it to your current DP, who will then forward it to the Central Depository for processing.
Some Essential Checks:
Transfer can be done only to accounts with the same BO Status (individual to individual and joint account to joint account).
Shares should be valid for transfer—they should not be in the lock-in status.
Transfer can be done only to the same individual's account. You cannot transfer to someone else unless you hold a joint account with them.
Your current broker may levy a charge on the transfer. However, it is free if you opt for account closure. Once the specific details are submitted, the transfer should ideally take 3-4 hours, depending upon the depository and their policies.
How to Move Shares from your Existing Broker to Dhan?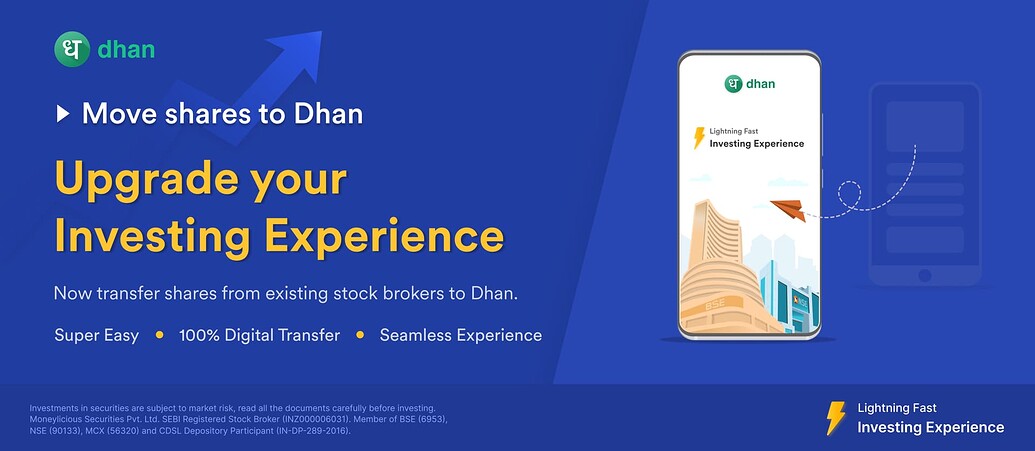 To transfer shares from your existing broker to Dhan here is our step by step guide with detailed explanation and screenshots. Before you begin the process here are few things to look at:
Transfer can happen between individual accounts only.
Certain brokers will charge you a nominal fee per company that you want to transfer out. Kindly get in touch with your broker for the same as you may need to maintain necessary balance in your ledger.
Once the transfer is complete, the cost price of your holdings will not get updated. On a separate post next week, we will update the procedure for the same.
You can also read:
Happy Investing 😇
Experience lightning-fast trading and investing in stock market ⚡