The online options trading landscape is slowly but steadily evolving, leading to more diverse opportunities for retail traders. The Nifty Financial Services Index or Finnifty and its Options is a product of this evolution.
The index and its futures & options have garnered significant interest since launching in January 2021. Check out the image below to see how India is taking an interest in the growth of Finnifty, especially over the past year.

Meaning of Finnifty Index
Before we delve into Finnifty options trading, it's crucial to understand what is the Finnifty index as a whole. Finnifty, also known as Nifty Financial Services, is an index introduced by the NSE in January 2021.
There are 20 stocks in the Finnifty index and as per design, it will continue to have a maximum of 20 stocks unless NSE decides to revamp the index. The goal of Finnifty is to reflect the performance of financial institutions on NSE.
The financial institutions are classified into sub-sectors like Asset Management Companies, Financial Institutions, Housing Finance Companies, and many others.
List of Companies in the Finnifty Index
The following is a list of the twenty companies in Finnifty:
AXIS BANK LTD.
BAJAJ FINANCE LTD.
BAJAJ FINSERV LTD.
BAJAJ HOLDINGS & INVESTMENT LTD.
CHOLAMANDALAM INVESTMENT AND FINANCE COMPANY LTD.
HDFC ASSET MANAGEMENT COMPANY LTD.
HDFC BANK LTD.
HDFC LIFE INSURANCE COMPANY LTD.
HOUSING DEVELOPMENT FINANCE CORPORATION LTD.
ICICI BANK LTD.
ICICI LOMBARD GENERAL INSURANCE COMPANY LTD.
ICICI PRUDENTIAL LIFE INSURANCE COMPANY LTD.
KOTAK MAHINDRA BANK LTD.
MAHINDRA & MAHINDRA FINANCIAL SERVICES LTD.
PIRAMAL ENTERPRISES LTD.
POWER FINANCE CORPORATION LTD.
REC LTD.
SBI LIFE INSURANCE COMPANY LTD.
SHRIRAM TRANSPORT FINANCE CO. LTD.
STATE BANK OF INDIA
What you'll notice off the bat is that these companies are a part of the futures stock list and options stock list, which now brings us to Finnifty options trading!
Finnifty Options Trading Explained!
Finnifty options are derivative contracts that derive their value from the underlying Finnifty index constituents that are mentioned in the previous section.
1. Finnifty Calls & Puts
Finnifty options include call and put options contracts that grant the holder the right, but not the obligation, to buy (call) or sell (put) the underlying index at a predetermined strike price on or before the contract's expiration date.
2. Strike Price & Premium in Finnifty Options
Finnifty options have a strike price, which is the price at which the option can be exercised. Before you get to that, you'll have to pay an options premium to acquire the Finnifty options contract.
A buyer who wants to acquire a Finnifty options contract must pay the seller a premium. The buyer and seller use some of the best options trading strategies to benefit from the strike price, premium, or both.
3. Finnifty Expiry
Just like any options contract, Finnifty options have an expiry date. In fact, they are split into two types of expiry in the stock market:
You can trade 4 weekly contracts every month and 3 monthly contracts every quarter. The 3 monthly contracts are addressed as follows:
Near-Month
Mid-Month
Far-Month
Let's say you're in April 2023. The near-month contract would be April's. The mid-month contract would be May's. The far-month contract would be June's. These monthly contracts expire on the last Tuesday of the month.
Weekly Finnifty options expire on Tuesdays every week. If the weekly or monthly expiry day is a holiday, it's preponed for every trader's convenience. Why the special focus on expiry, you ask?
Whether it's an index, stock, commodity, or currency options contract, expiry is the deadline after which the derivative becomes worthless. As expiry inches closer and closer, the price of the options contract will decay.
4. Finnifty Option Chain
A Finnifty options chain will give you a bird's eye view of all the important metrics for calls and puts. These metrics include Open Interest, Volume, Options Greeks, and more.
The following image will show you what a Finnifty option chain looks like: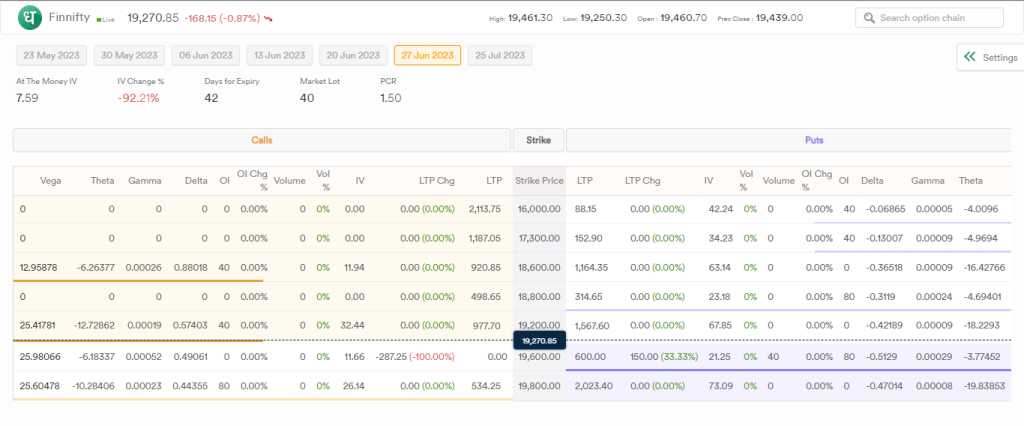 5. Performance
The FINNIFTY index has performed well since its inception, providing more opportunities to traders with its diversified exposure to different sectors of the Indian economy. Check out the growth of Finnifty in the graph below.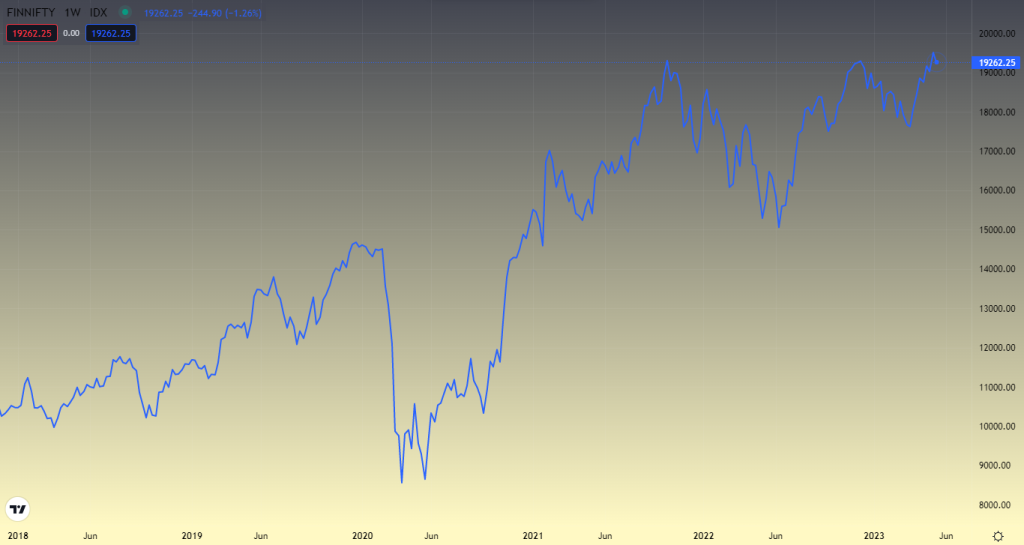 6. Options Strategy Builder for Finnifty Trading
To further solidify your risk management and optimize your trading strategies, you can use an option strategy builder for trading Finnifty options. This is a valuable tool that can help you analyze, build, and execute Finnifty options trading strategies.
Conclusion
Trading Finnifty options may present a versatile avenue for market participants to speculate or hedge in the financial markets or for generating income through premium collection.
While Finnifty options trading comes with risks, traders can use options strategy builder to mitigate those risks and create profitable trading strategies. The availability of different expiration dates allows you to use various strategies according to market conditions and risk tolerance.
Thus, Finnifty options trading is similar to trading any other options contract. Traders can buy or sell these options contracts through a registered stock trading platform like Dhan.
Speaking of options trading, here's a video about Options Trader Web with Custom Strategy Builder for Finnifty: